Transforming a simple cake is easy with our FREE Geo Circus Party Printable Cake Topper! Simply download and follow our instructions below, then pop the lion on top of his stand and surround him with his elephant friends!

Almost There, Simply join club tiny to access your Summer Camp Book!
We'll send you inspiration, printables & fresh ideas straight to your inbox weekly! Don't worry, if you're already subscribed we won't subscribe you twice. You can also unsubscribe from club Tiny at any time.

STEP 1 – Print out your Geo Circus Party Printable Cake Topper
STEP 2 – Simply cut out all of the pieces using scissors
STEP 3 – Make sure you cut carefully around the corners
STEP 4 – Fold the six triangular pieces in half
STEP 5 – Start folding the dotted lines of the lion's stand
STEP 6 & 7 – Continue folding until all sides are finished
STEP 8 – Join the edges of the stand together using sticky tape
STEP 9 & 10 – Continue until the sides are joined together
STEP 11 – Grab two of the triangle pieces and glue or sticky tape them together
STEP 13 – Take the lion and attach the triangle pieces to the back using glue or sticky tape
STEP 14 – All done… Yay!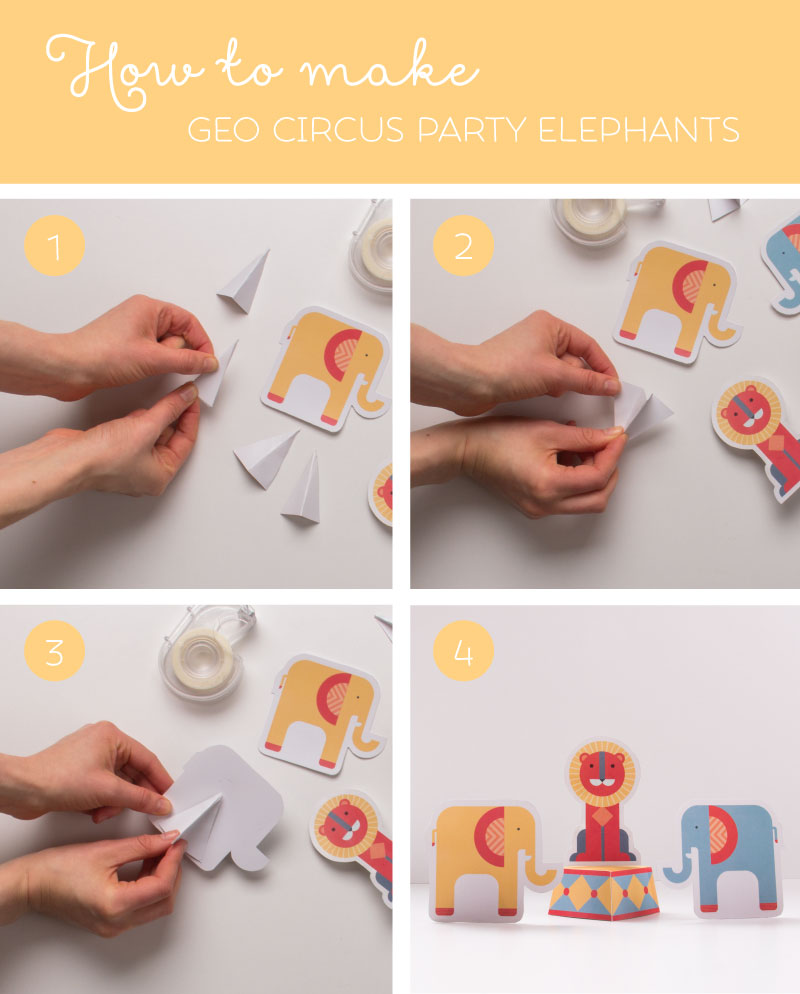 STEP 1 – Make sure all the remaining triangular pieces are folded in half
STEP 2 – For one elephant you will need to grab two of the triangle pieces and glue or sticky tape them together
STEP 3 – Attach the pieces to the back using glue or sticky tape
STEP 4 – Repeat steps 2 & 3 with the other elephant
CLICK HERE TO SUBSCRIBE & DOWNLOAD YOUR FREE GEO CIRCUS CAKE TOPPER