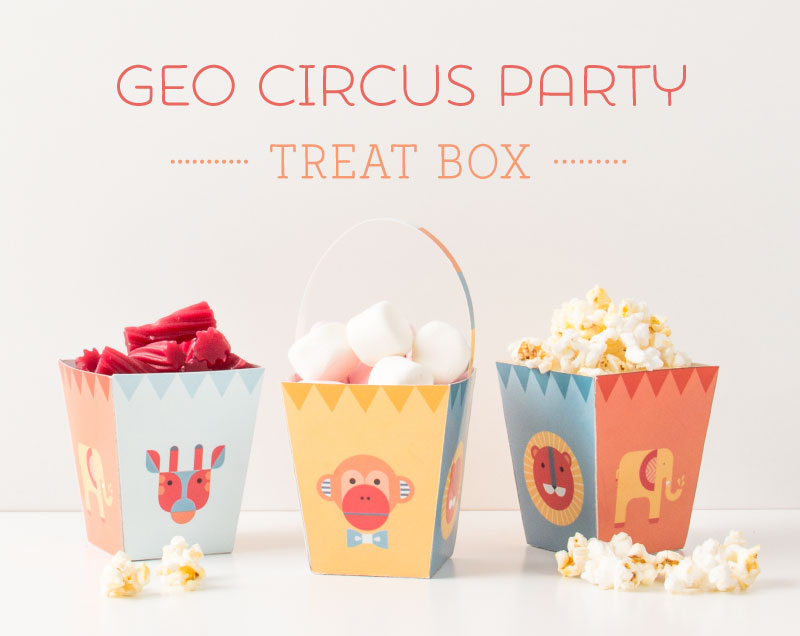 Our free printable Geo Circus Party Treat Boxes are the cutest way to spoil your party guests! Simply download, print, create then fill up with your favourite treats!
CLICK HERE TO SUBSCRIBE & DOWNLOAD YOUR FREE GEO CIRCUS TREAT BOX

STEP 1 – Print out your Geo Circus Party Treat Box
STEP 2 – Carefully cut out the treat box using scissors
STEP 3 – Carefully cut out the handle too
STEP 4 – Fold back the coloured tabs along the dotted lines
STEP 5 – Fold up each side of the box from the bottom edge
STEP 6 – Gather your folded pieces and some sticky tape or glue
STEP 7 – Fold the coloured tab underneath the side of the box and glue or stick it down
STEP 8 – Continue for all four sides of the treat box
STEP 9 – Take your handle piece and place it so that the white section is hidden inside the box
STEP 10 – Glue or stick it in place
STEP 11 – Do the same to the other end of the handle
STEP 12 – Voila! You have a finished treat box ready to fill with your favourite goodies!
CLICK HERE TO SUBSCRIBE & DOWNLOAD YOUR FREE GEO CIRCUS TREAT BOX