Tinyme Labels for Daycare & Preschool
Beautiful designs. Outstanding value.

Our Daycare Clothing Labels are washer and dryer safe and our Sticky Labels are microwave, dishwasher & freezer safe + coated for extra scratch resistance. Yay!
---
Customize your pack & save up to 62%*
Over 1 million orders since 2006!
Best Design Options | Amazing Value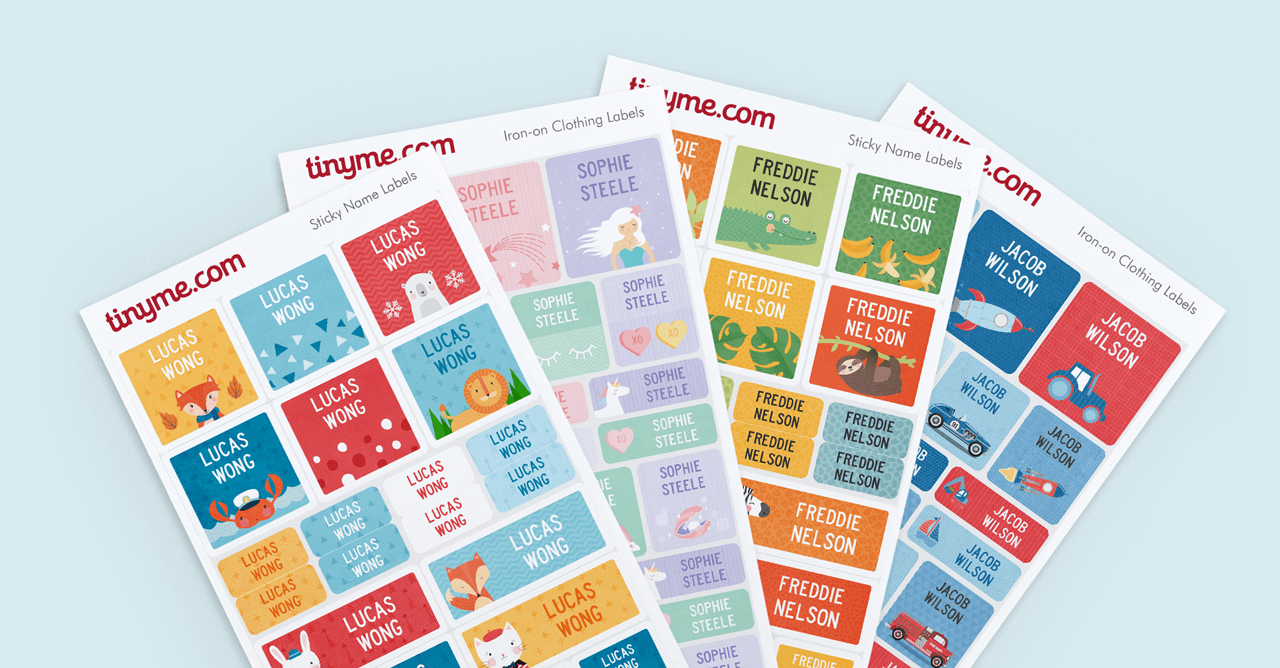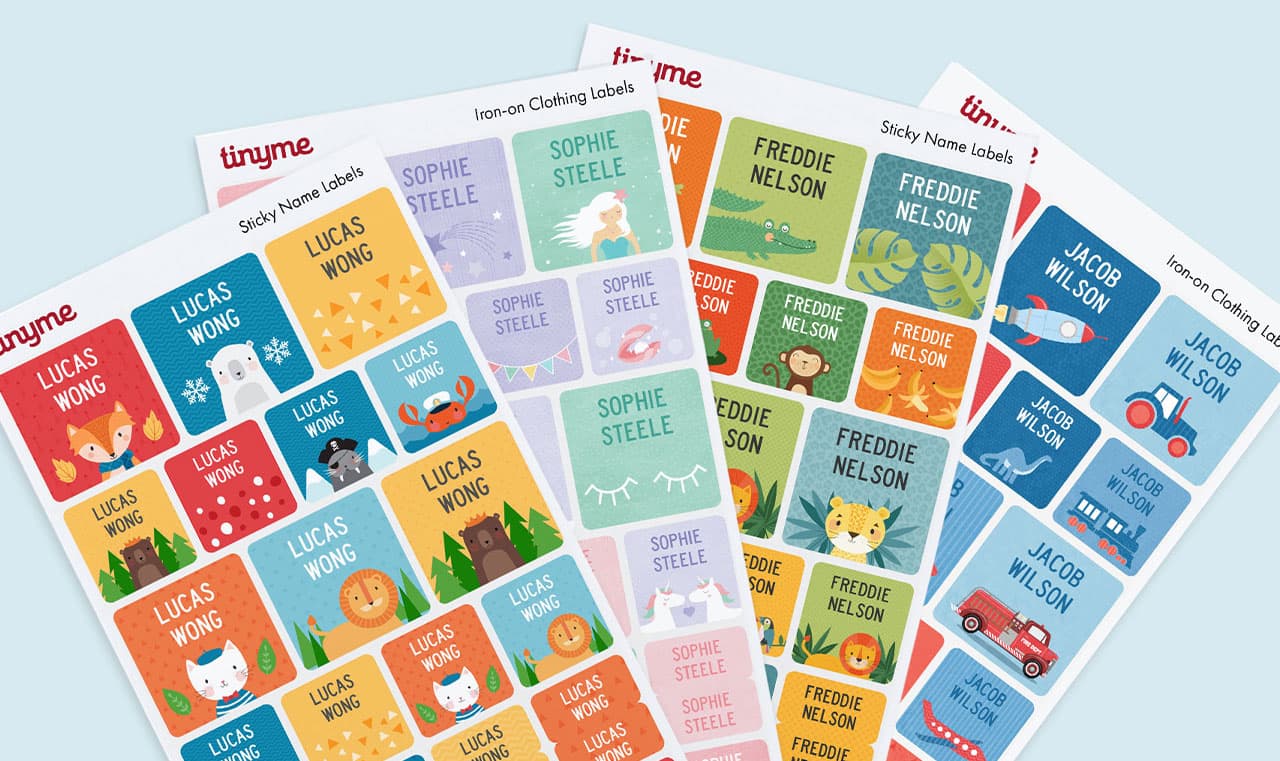 Lost belongings at Daycare & Preschool be GONE.. Baby Bottles... Check. Sippy Cups... Check. Super sticky, waterproof name stickers... Check. Extremely cute easy-to-apply clothing labels... Check. Customizable packs with a great mix of name label sizes AND big savings... Check Mate!
My customised order was perfect! Delivered on time. Easy ordering online. No complaints!
- Alexandra
Excellent labels, affordable price. Good discounts a lot of the time. Great packaging. Quick postage.
- Melinda
Their designs are beautiful. Labels are of high quality. Couldn't recommend enough to my mum friends.
- Karissa
Beautiful pastel coloured name stickers that my daughter absolutely adores.
- Sharlyn
---
Make the daycare drop-off that bit less stressful knowing that all your little one's favorite items will be safe and sound at kindergarten thanks to Tinyme Daycare Labels.
Our baby name labels are great for labeling the essentials such as clothes, tubs, dummies etc. to the not so essential but equally important, such as Cornelius, your kiddo's pet rock and current most precious belonging.
Our Iron-on clothing labels are easy to apply and stay stuck, while our sticky vinyl labels are scratch resistant, microwave, dishwasher and freezer safe! Yippee! Choose from heaps of design and color options to match your child's style and find something you'll both love! Win, win.
Label it and keep it with Tinyme kindergarten labels.
Daycare Labels Features
• 100s of design and color options.
• Conformable vinyl with super sticky adhesive.
• Printed at very high resolution in full color.
• Additional UV light cured gloss clear coating for additional scratch resistance.
• All our name labels will adhere to most smooth, hard, clean surfaces.
• Our labels are waterproof, dishwasher resistant and microwave safe.
Note: the following surfaces may not be compatible: Plastics that contain high silicon (non stick), plastics with a greasy feel and plastics with a highly textured surface.
STICKY NAME LABEL INSTRUCTIONS
1. Stick labels to smooth surfaces that are clean & dry. The following surfaces may not be compatible: Fabric, clothing, highly textured surfaces, plastics that contain high silicone (non-stick) or have a greasy feel.
2. Rub firmly over the whole label, especially the edges.
3. Wait 2–3 days for the adhesive to cure. When in the dishwasher, place items with labels on the top shelf & do not use high temperature settings such as "pots & pans".
4. Safety Check: Before giving any item to small children, check that the labels are fully and safely adhered.
WARNING: Labels can be a choking hazard.
Good To Know: Paper labels such as Address, Book and Gift Labels are not waterproof and thus not suited for uses such as dishwasher, microwave, freezer etc.
IRON ON CLOTHING LABEL INSTRUCTIONS
Please note: If garment is not suitable for hot iron be careful & iron at own risk. Never iron directly onto the label.
1. Preheat DRY iron to medium-high heat. Do not exceed garment recommended iron temperature.
2. Peel off the label & place onto fully dry garment, text side up. Please note: Labels applied to damp garments will not adhere properly.
3. Cover label with supplied parchment paper & press firmly with iron for 8–10 seconds.
4. If edges are not fully stuck (try peeling label off with fingernail), you may need to increase temperature, pressure or time & repeat above steps.
5. Safety Check: Before giving any item to small children, check that the name labels are fully and safely adhered.
WARNING: Labels can be a choking hazard.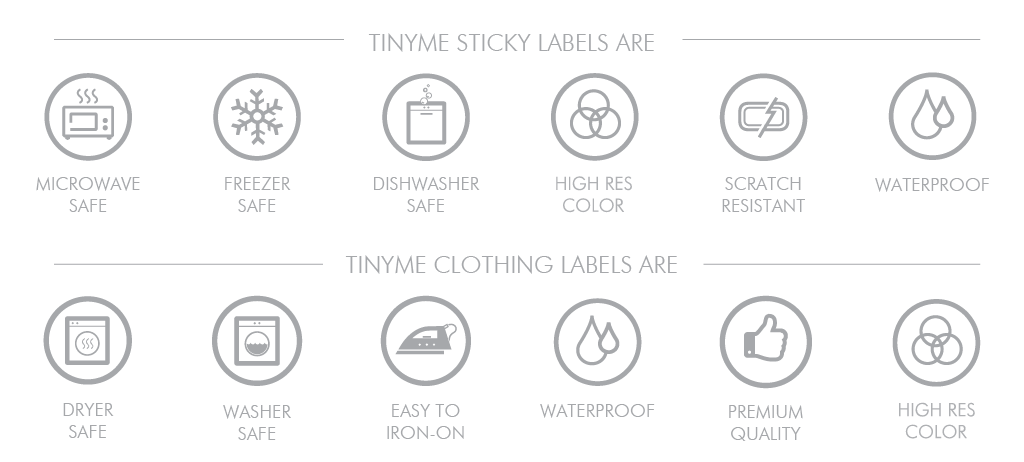 ---
* 62% saving based on largest pack discount compared to purchasing individual sheets.